Banff, Glacier, Yellowstone & Teton National Parks

Deposits Received, Thank You
Arriving in Jackson Hole on July 8, 2018
Departing Jackson on July 21st  – 13 nights
Package Includes:
13  Nights Lodging – separate rooms 
BART5 Chuckwagon Dinner and Western Entertainment
Your vacation packet comes with customized, comprehensive driving directions, marked maps, brochures and vital information in a daily itinerary.   In addition to your Travel The Rockies customized Itinerary, we will also supply you with complete details of additional "best places to see", our recommended hikes,  and our recommended restaurants in each area you visit.  During your vacation, you will experience a world like no other. A visual playground with thunderous waterfalls and fascinating wildlife.  So let us do the planning and get all the details in place so you can get ready to just "Go with the Flow"!
July 8 and 9, Signal Mt Lodge in Grand Teton National Park, Conf 22098479 and 22098480
For those who crave ultimate mountain scenery, nothing surpasses the awe-inspiring views from the front balcony, surrounded by one of the most beautiful settings in the world, the Teton Mountain Range.
Enjoy the comforts of home and experience absolute relaxation in the two lakefront retreats.  All that is available are rooms with two queen beds). Equipped with Electric Heat, kitchenettes and full baths.  As the sun sets over the Lake enjoy the finest in mountain dining at The Restaurant, serving enticing regional specialties for dinner and home baked pastries.   Or go Casual in The Grill;  serving hearty breakfasts, specialty sandwiches, nachos, burgers, and dinner entrees.  All while you overlook a beautiful lake and mountain range.  Relax in the cool mountain air
By making the scenic loop,  you will be able to visit all of the Park and its attractions, including Old Faithful; the Grand Canyon of Yellowstone; Upper and Lower Falls; Mammoth Hot Springs to name a few.  Our turn by turn itinerary will suggest hiking trails and sites along the way!
July 10 – Chico Hot Springs Resort, Conf.  703589 and 703590
A delightful resort that boasts two open-air mineral Hot Springs pools. The small pool averages 104 degrees, and the large one averages 96 degrees.   Guests can soak their cares away from 6 am until midnight, every day of the year.
Two No. 40 Cabins with king beds
Remember your swimming suits!!
THE RESTAURANT… has long been credited with bringing fine dining and stands out as one of the region's best restaurants. The Inn specializes in fresh, exceptional cuisine, with generous steaks, their seafood is flown in fresh and all of the baking is done on the premises.
THE POOLSIDE GRILLE… is home to fabulous ribs. Open for lunch and dinner daily, it's also a great place to have a big burger, super-sized salad, some hearty homemade soup, or a cold, refreshing beer. The Grille overlooks the pool, which makes it an excellent spot to relax and have some good eats.
THE SALOON — overlooking the south end of the pool — features great drinks, video poker & keno machines, a pool table, foosball and big screen TVs.
Built to honor the great lodges of the mountain West, the Lodge at Whitefish Lake brings new meaning to the word "hospitality." The Lodge offers everything from complimentary valet parking and shuttle service to boat rentals and relaxing facials.
July 11 On Flathead Lake, KwaTaaNuk Resort, Conf RKTN05857.1 and RKTN05857.2
Two lakeside Rooms, king beds
Casino, Restaurant and Lounge located on the shores of the pristine Flathead Lake, under the majestic Mission Mountains, and surrounded by the beautiful wilderness of Montana. Endless entertainment is at your fingertips
July 12 Glacier Lodge, Conf 12A4N4 and 12A4N5
As guests enter, they pause with awe at the enormous Douglas Fir trees that surround its majestic lobby. This magnificent hotel, steeped in history and culture, is where guests can play a game of golf, take a swim in the outdoor, heated pool or enjoy nature trails on horseback. Many choose to relax and enjoy a good book or a game in the reading room, as they admire the mountain views and the glorious gardens at the lodge. After a memorable day, you can unwind and appreciate a hearty meal in the Steak and Rib House or a relaxing view of the sunset from one of the many decks or balconies.    2 rooms, KING BEDS.
July 13 and 14, Deer Lodge –  Lake Louise, conf 600215618 and 600214684
Unique lodging without having to fight the crowds.  It's also only a a 5 minute walk to Lake Louise. This century old property has seen substantial restoration of its early architecture. Think intimate rooms with inviting feather comforters and historic furniture.  King beds.
July 15, Many Glacier Lodge, Conf 12170128
2 Lakeside Rooms with king beds
July 16, Fairmont Hot Springs Hotel, Conf R80708.1 and R80708.2
There are two over sized Olympic swimming pools and two mineral soaking pools. One of each located indoors and outdoors. The pools are fed by a virtually unlimited supply of 155 degree natural hot spring water, cooled to various temperatues for comfort and maximum enjoyment.
The Native Americans considered hot springs to be medicinal and many people to this day swear by the healing powers of natural hot springs. If swimming and soaking is not your thing, try the excitement of the 350 foot enclosed water slide.
2 rooms, king beds
You can enjoy any of your favorite tropical drinks at the outdoor "pool" bar.  The "pool" bar has all of your favorite drinks as well as an assortment of non-alcohol drinks.
July 17, The Pollard Hotel, Red Lodge, near Bear Tooth Highway, Conf 43476
One of the most fascinating sights you'll see along the way is a near-perfectly carved pyramid rising up between the granite mountains. It almost looks as though someone picked up one of the great pyramids of Egypt and placed it among the Beartooth mountain range. Carved exquisitely by glaciers, its unique shape led the Crow Indians to name it "bear's tooth," which is how the mountain range and highway got their name
Two-rooms, suites with a king bed. The living room provides an intimate seating area with windows or a balcony that overlooks the indoor gallery.
July 18, Cody Cowboy Village, Conf. 69760 and 69765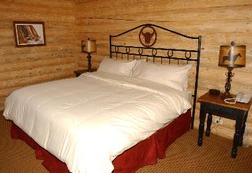 A cabin is the perfect lodging solution for people looking to make a luxurious vacation getaway. Designed both with exterior rustic beauty, and interior lodging luxury in mind.  2 rooms, king beds
July 19 and 20, The Lodge at Jackson, Conf. 62047979.1 and 71712470.1
Large timbered pines and hand carved bears add to the charming and cozy atmosphere of this newer resort property, located just one mile from Jackson's historic Town Square.    They also offer a indoor/outdoor heated pool, Jacuzzi®, tubs, saunas and deluxe Continental Breakfast:
Includes scrambled eggs mixed with sausage and ham, hash browns, hot and cold cereal, bagels, toast and juice.
Visit Jackson Hole and stroll around Town Square – Great shopping, unique boutiques and gift shops, museums, and dining!    Two Rooms with King Beds
INCLUDING:  BarT5 Covered Wagon Cookout and Wild West Show: Experience a never-to-be-forgotten western adventure. Step back in time as you climb aboard covered wagons and ride to an outdoor dining room on the bank of a clear mountain stream in beautiful Cache Creek Canyon.  Mountain Men, Cowboys and Indians will be constant companions throughout the evening. Top it all off with music and comedy. Enjoy the days of yester-year when the West was Wild and Cowboys were King
Thank you for using
Travel The Rockies – 888-672-9466
Visit Montana / Wyoming . . . the attractions (and scenery) are endless!